We welcome you to visit and experience an exceptional lifestyle.
Shrewsbury Manor offers newly renovated apartments with spectacular river views located in Red Bank, New Jersey's "Hippest Town". The apartment community is situated on the banks of the Navesink River adjacent to the renowned Molly Pitcher Inn and Marina, offering residents an exceptional lifestyle.
Downtown Red Bank, with world class restaurants and shopping including Tiffany's, Urban Outfitters, Hamilton Jewelers, Garmany, CoCo Pari and Restoration Hardware, is a short stroll from Shrewsbury Manor. Shrewsbury Manor is surrounded by distinguished landmarks, events and parks including the Two River Theater Company, Arts & Antiques District, Riverside Gardens and Marine Park, which is home to countless festivals. The NJ Transit train station is a short walk from the apartment community, which makes commuting, traveling or sightseeing easy.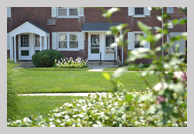 Shrewsbury Manor offers newly renovated apartments with new kitchens featuring maple cabinets, granite countertops, hardwood floors throughout and open design layouts. Residents are given free storage units and an upgraded laundry facility is on-site for those apartments that do not have washers/dryers. On-site parking and garages are available for your convenience. The community is situated on two acres of prime real estate offering residents a comfortable setting in a serene garden venue where river views abound.
Shrewsbury Manor is managed by Philip J. Bowers and Company, family owned and operated since 1894. On-site maintenance workers are available 24 hours per day and provide exceptional service.